Dr. Katalin Hegedűs
Myth:
Hospice is necessary only during the last few days of life.
Fact:
Hospice care is necessary during the last 6 to 12 months of a serious, incurable illness when the patient's condition is worsening despite medical treatment.
Myth:
Hospice is a house where dying people are placed.
Fact:
Hospice is not a house but a philosophy, a range of services, an organizational system; in other words, an interdisciplinary-care model (consisting of: hospice house, palliative inpatient department, home care, outpatient care, hospital consultation group (mobile team), bereavement group, telephone help lines).
Myth:
Only cancer patients are accepted for hospice.
Fact:
In Hungary it is primarily cancer patients who are accepted, but not in other countries.
Criterion: life expectancy of less than 6 to 12 months.
Goals:

- relieving pain and suffering, improving quality of life;
- humane treatment;
- shaping attitudes.

Myth:
There is no difference between hospice and a terminal ward. There is nothing to do but hold the dying person's hand.
Fact:
Hospice involves specialized care, which is different from chronic, nursing and social care. Special training is required to serve as, for example, a palliative care specialist or a hospice-care nurse.
https://hospice.hu/en/patient-admission
Myth:
Hospice and elderly care are the same thing.
Fact:
Terminally ill individuals of all ages may need hospice care.
Myth:
Unfortunately it doesn't yet really exist in Hungary. But if it does, it costs a lot of money. It exists only through foundations.
Fact:
Hospice services have been financed by the National Health Care Insurance Fund (OEP) since 2004. Currently 95 providers are available. Every type of hospice is free for the patient.
Myth:
Nothing can be done about the taboo surrounding death.
Fact:
Through changing of attitudes, public service campaigns and education much can be done to relieve the taboo surrounding death.
see more: Hegedűs K (2011): Myths and facts about hospice. Lege Artis Medicinae, 21 (11): 744-748.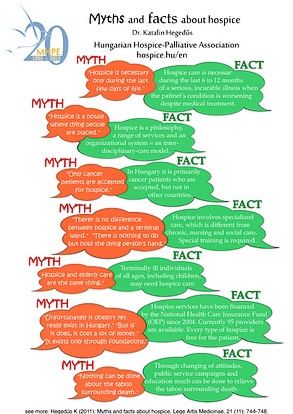 MYTHS VERSUS FACTS ABOUT HOSPICE leaflet
Download printable format: